Show Information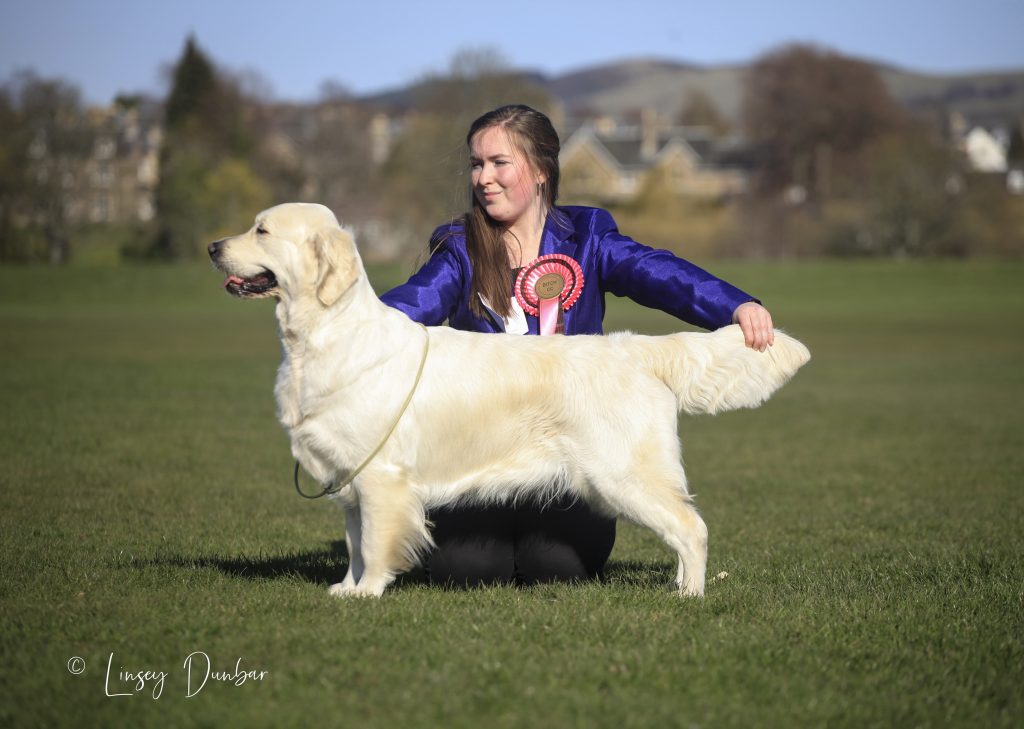 Dog showing started in the second half of the 19th century, when groups of men gathered in coffee houses and compared the merits of their various dogs. The fascination for this sport has continued unabated since then, and it is one of the most popular of pastimes for dog lovers.
When looking to purchase your puppy, make sure you mention it to your breeder that you are hoping to show him/her. Your breeder will be able to offer you a puppy of 'show potential' however this is no guarantee he/she will be of show quality. Your puppy can be from fabulous show stock, but much can go wrong in the early years of a puppy's development. However, choosing the right breeder with knowledge and experience is a fabulous place to start. Often you will wait for a considerable time to get your puppy, always well worth the wait. The planning and work that goes into a litter of puppies is enormous.
To the novice, exhibiting a Golden Retriever in the show ring may look very easy – but it takes a lot of work, devotion, many miles of travel, cost and a little bit of luck.
One important thing to be aware of if you are new to the world of showing. Your dog is not compared to the other dogs in the ring, he/she is judged with the Breed Standard as a guideline. The Breed standard can be found can be viewed on this website. Most dedicated breeders will tell you the 'perfect' dog, as outlined in the Breed standard has never walked into a show ring, has not been bred yet, and some may even say will never exist. That said Breeders do get as close to the ideal as possible with their litters, all seeking the theoretical 'perfect dog'.
If you are interested, a good starting point is to join a Ringcraft Class, organised usually by a local Dog club in your area.
At this class you will not only learn how to best to show your dog, but will also have details and schedules of all the local shows coming up. These classes become extremely sociable affairs.
Alternatively details are published in two weekly journals, Dog World and Our Dogs, both can be purchased from your newsagent (you may find you have to ask for a special order). These publications give details of all the forthcoming shows and you can apply for a schedule to be posted to you. With the exception of Companion shows, all shows have to be pre-booked.
There are 4 different types of shows licensed by the Kennel Club:-
Championship
The highest level of show, and open to all exhibitors. The one exception to this is Crufts, entry to which requires a qualifying win in certain classes at another Championship Show during the preceding year.
Open
Open to all exhibitors.
Limited
Limited to the organising show Society's Members or residents within an area.
Companion
For registered and unregistered dogs, provided the dog has not won a CC, an award that counts towards the Champion title; a Reserve CC or a Junior Warrant.
Most Societies offer breed classes for Goldens due to their popularity. Classes available differ depending on the size of the show and the qualification of the Judge. The class you enter may be determined by the age of the dog or the class wins you have achieved.
The Golden Retriever Club of Scotland hold their own shows and this is an ideal way to go along to a Show – see what happens and to talk to some of the participants, most who you will find very friendly and helpful. It is also a good way to see the style of dog you like and to be asking if litters are planned from that bitch/dog.