Buying A Puppy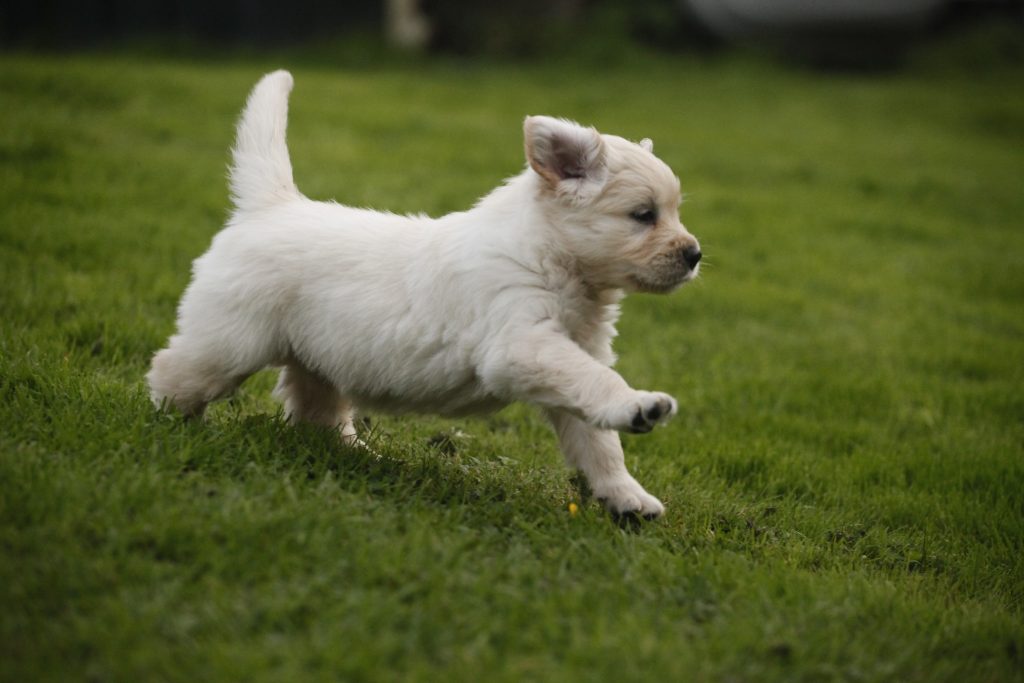 Buying a Golden Retriever Puppy should be an enjoyable and exciting experience for you and your family; however there are many things that should be considered before you proceed.
The Golden Retriever Club of Scotland offers advice by means of our puppy co-ordinator, who will liase with respectable breeders who are members of the Club, as to when they have puppies available form a litter. It is worth noting that most puppies are spoken for before they are born – highlighting the desire for potential owners who have done their homework and want to be as sure as anyone can be, that the puppy they are waiting for will be born healthy, free of genetic disorders and will be raised in a loving and careful home. As most advertising for Puppies is now done 'online' anyone could be selling on puppies with no knowledge of the parents, their health checks nor the environment the puppy has developed within.
Due to the Breed's popularity, sadly there are a number of intensive volume breeders who may have little regard or consideration for the basic needs and care of the dogs concerned, let alone the most basic of health checks prior to breeding. Buying a puppy from one of these situations is a recipe for heartache further down the puppy's life. Please be aware that there are elaborate scams to encourage you to buy a puppy at a lower price, and to make you commit your hard earned money in a very swift manner.
If you are in doubt as to the health aspects of the puppy you are considering – please ask one of the Committee members who will assist you to establish the truth. We are very happy to encourage you to exercise great care in selecting a good breeder.
There may be many reasons why you are considering a Golden Retriever, you may be looking for a pet that is good with children, be interested in a dog for showing or working and hopefully the club will be able to guide you through this process.
Before you buy, the Golden Retriever Club of Scotland suggests that you consider why you want a dog.
Remember a Golden Retriever has a life expectancy of anything from 12 to 16 years so this is a long term commitment for yourself and the family.
Here are some questions to ask yourself before you look at any pups.
Is someone around during the day?
A young puppy needs company. Someone "coming in at lunchtime" will never work. He is inquisitive and willing to play and learn. He will naturally want to chew. He will have to start toilet training right away. This means taking him out when he wakes and after each meal. It will be to your advantage if he is encouraged to use a particular area of garden to do his business. Without attention it will be virtually impossible to toilet train, and a puppy or indeed an older dog will become stressed and destructive if left alone for long periods.
Is your garden secure?
It is so important that your garden has adequate fencing. A young puppy is naturally curious and will explore any hole or gap he can find. Put your mind at rest and have this checked out. Remember some plants and daffodil bulbs are poisonous so make sure that these are out of reach.
Are the children old enough to take responsibility of a dog?
Although Golden Retrievers make excellent family pets, and chosen with care from the right breeder, will be happy with young children, the younger members must realise that the puppy is an animal and not a toy. He is a long term commitment and not a whim, so discuss this thoroughly before you go to view a litter. A good breeder will want to meet the whole family and make any suggestions required to help you.
Do you have a good veterinary practice in your area?
Unfortunately the cost of your puppy does not stop after the initial purchase price! Your breeder will probably have had the litter checked by their vet and micro chipped before they leave for their new homes, but will advise you to take him along to your vet to have him checked again shortly after bringing him home. Make contact with your vet before purchasing and ask about their immunisation programme and any other relevant points. Remember a trip to the vet will always cost you money, even if it is just for a yearly check up.
OK, so you've done all that and you still want to go ahead.
Here is some advice that we would strongly recommend you to follow.
Go through a Golden Retriever Breed Club. You should find that you will get some sensible friendly advice on what you should look for when you go to view a litter of puppies.
They will probably be able to give you contact numbers of breeders. Most clubs will have a list of their members who have litters available. The Golden Retriever Club of Scotland will have this available. Contact the Puppy Register for this information. In these modern days of social media there are Facebook pages that have been set up by responsible breeders, who will only list puppies available from health checked parents. It is worth becoming familiar with these pages and discard the other 'quick sale, no questions asked, type of social media pages or website. Even in this modern age the very best thing to do is to go to a Golden Retriever Events – a show or a working test, meet the people and talk to them, word of mouth is by far an excellent way to be introduced to your breeder. You may need to put your name on a list for a puppy a year in advance of those puppies being born. If you have done your homework, it is well worth the wait.
Don't be put off
A good breeder will always want to meet you before agreeing to sell you a puppy. They will and have the right to ask you lots of questions, some which you may feel are perhaps a little probing. This is a good sign – as the Breeder of the puppies they will feel very responsible to be sure their pups go to exceptional homes. The breeder should have hip certificates and up to date eye certificates for both sire and dam of the pups. These certificates are issued when the parents have been submitted for the necessary hip x-rays and eye examinations. They are absolutely essential as it is extremely important that the sire and dam of the litter are sound and have no hereditary conditions that could be passed on to their progeny. No responsible breeder would dream of breeding without them being in place. They will be willing to show you these certificates and explain more about the scheme should you require. If a breeder does not have these or is not prepared to show you them – walk away, no matter how hard that may be.
Always see the mother with her puppies. Never let a breeder bring a puppy to you. You should, if possible, see the whole litter. The mother should be a happy outgoing bitch. The area where the pups are should be clean and well managed. Puppies that have been brought up in a clean environment will be so much easier to toilet train. Do not accept any excuse that the mother is out for a walk, round at her Grannies, or any other lame excuse – this is genuinely a red flag. Responsible breeders will want you to meet the mother of the puppies and they will want to see how you interact with her. A five generation pedigree, diet sheet and Kennel Club Registration Certificate should always be given to you when purchasing your puppy.
A good breeder will spend time answering questions. Never think that anything you want to ask will 'sound silly'. Remember, breeders started from a first puppy themselves so will never think a question is silly and would rather you asked than go away and worry.
They will also give you advice on any particular interests you may have such as showing, working, obedience or agility training, or be able to give you details of the best person to get advice from.
Most importantly they will help you with advice on socialising. A lot of this will have been attended to long before the puppy leaves the litter. A good breeder will have spent most of the first eight weeks of the puppies' lives down on their knees playing with them. This is so important and establishes the bond between dog and human. Remember dogs are pack animals so have to be taught right away, that people are their friends and part of their world.
Golden Retrievers are wonderful dogs with so much to offer, your life will never be the same again when you bring a Golden in to share it with you. Choose well and enjoy your new puppy.