2019 Breed Stake Trial Results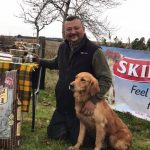 BREED STAKE TRIAL
We returned to Drummond Estate, Crieff, with kind permission Garry Ford and David Wallace, to hold our 2019 Breed Stake. This year, we had a fabulous entry, with handlers and dogs who had travelled from Italy, Ireland, south of the border and a healthy entry from Scotland. We started off with a full card of 16 dogs and a few Reserves, but on the day ran with a card of 13 Golden Retrievers.
The weather was exceptionally kind to us with sunshine overhead, however exceptionally wet underfoot.  Handlers and dogs were faced with tough ground, heavily rutted, with ditches, thick cover, gorse and white grass. The Guns kept sure footed and shot fabulously well for us. The Judges gave each and every dog a fair chance for every retrieve.  Considering the difficulty of the terrain, we witnessed some outstanding handling and natural ability from the dogs. A super day, experiencing a true test of a good old fashioned walked up Trial.
Our winner, Nathan Laffy had just won a 2 day trial at Hi-Fly, Lancashire on his way up to Scotland. Winning our Breed stake effectively would made his dog into a Field Trial Champion over a period of 3 days. Sometimes Lady Luck plays a part in winning a trial, but Nathan won with style, allowing young Chance to use his natural game finding ability, supported with some exceptional handling skill.
Judges on the day were Dick Sorley, Mike Rolland, Erica Munro Ferguson and Nick Coates.
Awards
First Place  – Nathan Laffy with Think Twice Zero to Hero.
Second Place – Pieter Vivais with IntFtch Think Twice Uh La La La.
Third Place – Kim Jinks with Mistybrook Ochre.
Best marking dog – Ian Lohore with Auchencloch My Way.
Guns Choice – Nathan Laffy with Think Twice Zero to Hero.